Bus Accident Compensation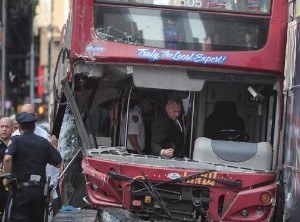 Have you been involved in a bus accident, either as a passenger or driver of another vehicle? You may be wondering if you are eligible to recover compensation for the damages you have suffered. Jamestown bus accident lawyer Scott Humble explains what you should know about bus accident compensation.
Bus Accident Compensation | Types of Bus Accidents
Bus accidents occur every week in the U.S., and often times, they result in serve injuries for those involved. In general, there are two ways you might have been involved in an accident:
Passengers of Bus Accidents – Your safety is the responsibility of the bus company, whether you're a passenger on a tour bus, school bus, shuttle bus, commuter bus or charter bus. These accidents can be caused for a number of reasons: Driver negligence, bus malfunctions, or unsafe bus conditions. If you've been injured as a passenger on a bus, the bus company may be liable for your injuries.
Driver of Vehicle – Bus accidents involving cars, trucks and other motor vehicles are often horrific and can result in significant injury or property damage. If you were driving a car or motor vehicle that collided with a bus, you may be entitled to compensation for your injuries. Contact an attorney right away to protect your rights following an accident.
Bus Accident Compensation | What Types of Compensation is Available?
Bus accident victims experience many new challenges. Following an accident, a victim might face severe pain and suffering from their injuries. Additionally, they face financial strains from medical bills, lost wages, and long-term disability that can compound the stress that victims face.
People involved in these types of accidents are entitled to compensation to recover from their injuries. You may qualify for many types of compensation to cover:
Medical bills
Lost wages
Loss of normal life (e.g. not being able to return to hobbies)
Loss of consortium
Pain and suffering
Emotional distress
Long-term disability
Jamestown bus accident lawyer Scott Humble is committed to helping victims recover compensation and return to their normal lives. If you've been involved in a bus accident, don't hesitate to call. Our legal team is available to discuss your case, provide legal advice, and help you start building a case. Call us today for a free consultation.