Jamestown Pedestrian Accident Lawyer
Pedestrian accidents involving negligent drivers change victims' lives. If you've been injured in a roadside accident, experienced Jamestown pedestrian accident lawyer Scott Humble can help you manage the legal process and win the compensation you deserve.
Many commuters share New York's roadways: Vehicles, work trucks, motorcyclists, bicyclists, and of course, pedestrians. It's everyone's responsibility to share the road and protect all other commuters.
Unfortunately, accidents involving vehicles and pedestrians are all too common in New York State, and these accidents often cause severe injuries and even loss of life for victims.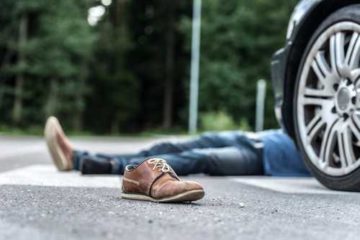 Jamestown pedestrian accident lawyer Scott Humble work hard to advocate for victims. A qualified lawyer not only files the legal claims, but the best ones secure settlements for victims that provide compensation for injuries, lost wages, medical bills, and pain and suffering.
Have you or a loved one been injured in a pedestrian accident in the Jamestown area? Contact Jamestown pedestrian accident lawyer Scott Humble today. He is experienced in successfully advocating for victims of pedestrian accidents.
Call today for a free case evaluation or for legal advice from attorney Scott Humble.
How A Jamestown Pedestrian Accident Lawyer Can Help
Pedestrian accidents often have life-altering consequences for victims. Many victims experience severe injuries including paralysis, traumatic brain trauma, and shattered bones. Even minor injuries prevent victims from returning to their normal lives.
Both severe and minor injuries often result in mounting medical bills, lost wages, debilitating pain, and long-term disability for victims.
Unfortunately, these accidents are often the result of negligent drivers. According to the National Highway Traffic Association, for example, roughly 10% of accidents are caused by distracted drivers. Other examples of driver negligence include:
Drunk driving or driver intoxication
Speeding
Running red lights
Fast turns into crosswalks
Following an accident, victims' sole focus should be on their recovery, not fighting for justice. A pedestrian accident attorney's mission is to help victims pursue justice, get compensation and handle the legal aspects of their cases so they can devote all of their energy to getting healthy.
Types of Financial Compensation for Pedestrian Accident Victims
The financial, emotional and physical burdens of a pedestrian accident can have long-term impacts on quality of life. Medical bills, for example, can disrupt a victim's financial future. Physically, victims may struggle with disabilities or long-term pain.
Accident attorneys help clients recover compensation for their injuries – both physical and emotional – and help offset bills and other costs, so-called compensatory damages. Additionally, lawyers help victims recover punitive damages, a type of compensation that serves as a punishment for defendants.
Unfortunately, many victims do not realize all of the types of compensation they can pursue, and as a result, they often settle for amounts much lower than they deserve.
A pedestrian accident lawyer can help you recover compensatory damages for:
Medical bills
Lost wages
Pain and suffering
Emotional distress
Loss of normal life and enjoyment
Punitive Damages. In addition, when a driver is negligent, victims can file for punitive damages. Whereas compensatory damages are designed to make a victim "whole," punitive damages serve as a punish for the defendant. Punitive damages are awarded on top of compensatory damages, and often, in personal injury cases, this type of compensation can be significant.
What to Do If You've Been Hit by a Vehicle
For victims, a pedestrian accident is a wholly traumatic experience. In the immediate aftermath, many victims are struck unconscious or are dazed and in shock. If you've been involved in an accident, here are some steps you should take to protect your safety and your legal rights:
Seek Medical Help: If you've been struck and are unconscious, the driver or witnesses are responsible for calling first responders. If you're conscious, though, it's your responsibility. You'll likely be in shock, and that might prevent you from fully recognizing that you're in pain. Even if you feel like your injuries are minor, still seek medical attention.
Note Your Injuries: If you're conscious, document where you feel pain. You'll want to note:

Visual injuries
What areas hurt
Anywhere you are bleeding
Areas that were directly struck
Call Law Enforcement: Police may already be on the scene, and they will want to hear about the events that led up to the accident. You may not fully remember them. Yet, it's important to help police understand each step that led to the accident. Provide a full accounting of what you remember, but do not admit fault.
Avoid Talking About Fault: Both first responders and the motorist's insurance company will want to determine fault in the accident. Do not discuss who's at fault in an accident. Here's why: You might not fully understand pedestrian laws and know who had the right of way. Admitting fault can be used against you later.
Call Your Auto Insurer: Auto insurance companies often provide coverage to their customers for pedestrian accidents. This step will help you make disability and medical claims through the insurer after the accident.
Talk to a Qualified Lawyer: An experienced Jamestown pedestrian accident lawyer will help you make the best case following your accident, and help you recover compensation for emotional, physical and financial difficulties. Plus, your lawyer can help defend you against the motorist's insurance company attempting to place fault on you or offering an undervalued settlement.
Request a Free Case Evaluation
There are few experiences more traumatic for a pedestrian than being involved in an accident with a vehicle. Jamestown pedestrian accident lawyer Scott Humble is experienced in these types of cases. Contact us today to learn more about your rights and to determine your next steps. We offer FREE case evaluations for pedestrian victims.