Jamestown Car Accident Lawyer
An auto accident can turn your life upside down. Let Jamestown car accident lawyer Scott Humble manage the legal details, so you can focus on your recovery.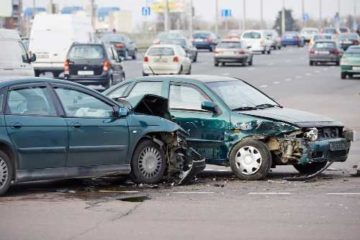 A car accident is something all of us hope to never experience. Unfortunately, in New York, car accident injuries are more common than you'd expect. Each year, car accidents in the state require 130,000+ emergency room visits.
If you've been injured in a car accident, an experienced Jamestown car accident lawyer can help you receive the compensation you deserve.
At Humble Law Offices, we're committed to helping you get compensation for any financial, physical or mental harm that's been caused by an auto accident. Dedicated Jamestown car accident lawyer Scott Humble is experienced in helping you manage all aspects of an injury-related accident: Filing paperwork, dealing with insurance companies, and helping you to maximize your settlement.
If you've been in an auto accident, we can help. Call today for a free initial consultation.
How a Jamestown Auto Accident Attorney Helps
A car accident can change your life in an instant and put immense stress – both emotional and financial – on you and your family. After an accident, you should be focused on your health and recovery, not on mounting medical bills, auto repairs, time away from work, or dealing with insurance companies.
That's how our dedicated car accident attorney can help. At Humble Law Offices, we're committed to managing the details for you, so you and your family can focus on your health.
We work diligently on your behalf to secure compensation, to file paperwork, work with insurance adjusters, and help you build a case. Ultimately, an auto accident settlement can help you respond to these physical and financial stresses and pay for injury-related costs, including:
Lost wages
Medical bills
Loss of a normal life, e.g. having difficulty driving
Long-term disability or disfigurement
Been Injured in an Accident? Here's What to Do
Being injured in an auto accident is scary and it's something no one is prepared for. If you've been injured, first and foremost, seek medical attention. Your health is more important than anything.
Even if you're injured but can still function, be sure to seek professional medical care in the days following the accident. See a physician and receive necessary treatment to ensure you get as healthy as possible. Make sure to keep your medical records and medical bills to help your attorney prove medical liability.
Additionally, there are some helpful pieces of information that can help your auto accident attorney establish your case. Be sure to have:
Your (or the driver of the vehicle's) name and contact information
The insurance company and policy number of the other driver
The other driver's vehicle information and contact information
Witness names and contact information
Photos and videos of the accident scene (photos of damage are important)
A copy of the police report
Medical bills, mechanic bills, or other financial invoices related to the accident
Don't have this information? That's not a problem. Your car accident lawyer can help you discover this information.
Important: Avoid Talking with Insurance Adjusters
Many people who have been in an auto accident rush to file a claim with insurance companies. That makes sense. They want to be compensated for vehicle damage or medical bills as quickly as possible, and prevent lost wages and bills from causing financial ruin.
Yet, this can be a mistake. Auto insurance companies are, at the end of the day, a business. They're always focused on protecting their own self-interest. That means they won't make the process easy for you; receiving compensation can take years and countless hours on the phone.
Before talking with an insurance company, talk with an auto accident attorney. A car accident lawyer's job is to contact the insurance adjusters on your behalf, fight diligently for your claim, and to present your case accurately. In the weeks after an injury-related accident, your job is to get healthy, not to battle with insurance adjusters. That's what we're here for.
Request a Free Case Evaluation
Do you have a case? That's a question you've likely considered, and it's an important one to answer in the days and weeks after your accident. Yet, without knowledge of New York car accident laws, it can be difficult to determine without the help of an attorney.
We can help. Our team of experienced car accident lawyers can quickly determine if you have a case, and we do it for free. No attorney fees or other costs. During your initial consultation with one of our Jamestown car accident lawyers, we will help you determine your legal options and what to do next.
Bottom line, this is a free consultation. You aren't required to hire an attorney with us, or follow our advice. Instead, the focus is on you: Your legal options, the steps you should take and the strength of your case.
Out of Town Legal Resources
We got a call the other day from someone looking for a car accident lawyer in Virginia. We don't practice in Virginia, but we found a great personal injury lawyer located in Vienna, VA that handles car accident cases and also provides great online car accident injury resources. If you or a loved one are injured in a car accident in Virginia read the Virginia Car Accident Guide.