Jamestown Motorcycle Accident Lawyer
A motorcycle accident can be life-changing for victims and their families. Motorcycle accident lawyers help victims recover compensation for their injuries and manage the legal process.
Motorcycle accidents are very dangerous. In fact, roughly 80% of motorcycle accidents in the U.S. result in injury or death to the rider, and more than 4,000 bikers are killed each year on U.S. roadways. In 67% of cases, these accidents are caused by cars not yielding to traffic that has the right of way.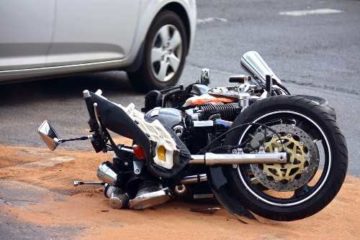 If you've been injured in a motorcycle accident, experienced Jamestown motorcycle accident lawyer Scott Humble can help you get the compensation you deserve.
Experienced Jamestown motorcycle accident lawyer Scott Humble helps clients manage the entire legal process, from securing compensation from at-fault drivers and insurance companies, to helping you file paperwork and contacting witnesses. Our mission takes the legal and financial pressures of a motorcycle accident off of you and your family, so you can focus on your recovery.
Call now to learn more about your legal options. Our team is here to help you and your family in this difficult time.
Why You Need a Jamestown Motorcycle Accident Lawyer
Adjusting to life after a motorcycle accident can be overwhelming. First and foremost, victims must focus on their recovery and returning to their lives. Yet, no matter how severe one's injuries, the legal process doesn't stop. Mounting medical bills and time away from work put added pressure on victims and their families.
At Humble Law Offices, we're committed to helping our clients focus solely on their recovery and getting better. Attorney Scott Humble manages all of the legalities of your accident and we fight to get you the compensation you deserve. Compensation for a motorcycle accident can help offset a number of financial pressures, including:
Lost wages
Medical bills
Medical equipment
Long-term disability
Pain and suffering
Repair bills
Too often, victims don't have an advocate in their corner and ultimately settle for much less than they deserve.  By hiring an experienced attorney, you can maximize the amount you recover.
What to Do After a Motorcycle Accident
Following a motorcycle accident, safety should be your first priority. The right response can save your life and prevent further injuries. In the immediate aftermath, follow these steps to stay safe:
Contact Emergency Responders – Call 911 immediately, if you're able to, and wait for paramedics and law enforcement to arrive. You should never leave the scene of an accident, even if it seems minor.
Protect Yourself – Be careful not to make your injuries any worse. Find a safe location to stay while you wait, which might be right where you are. If you're in the way of traffic, move to a safe location near the scene, if you're able to move.
Take Photos of the Scene – Any evidence you collect from the scene can help your attorney build your case. Start by taking photos and/or video of the accident scene. You'll also want to record key information including contact information, names and insurance information for all drivers and witnesses. Also, record any details you can about the crash including location, time and light conditions.
Protect Your Rights – In the immediate aftermath of an accident, you'll be asked questions by law enforcement, EMTs and other first responders. Do not admit fault. Your words can be used against you, so be sure you are careful what you say.
Ultimately, contacting a Jamestown motorcycle accident lawyer, even from the scene, can help you protect your claim.
About New York Motorcycle Accident Law
New York State has numerous motorcycle accident laws that bikers are required to follow. Understanding these laws can be challenging, and many may not know their rights.
For example, the state has complex insurance and liability rules for motorcycle accidents. In New York, motorcycle accidents aren't treated like car accidents. Motorcycles aren't considered motor vehicles in the state's No-Fault Law. Yet, motorcyclists injured in auto accidents aren't subjected to the "serious injury" clause of the No-Fault Law, meaning they can bring a claim for minor injuries (which don't fit into the serious injury threshold).
A qualified Jamestown motorcycle accident lawyer will explain all of these unique laws to you, and help you quickly determine if you have a case.
Talk to a Jametown Motorcycle Accident Lawyer Before You Contact Insurance Adjusters
Mounting medical bills and lost wages put immediate financial stress on victims and their families. Most victims want a quick solution and they think they can get that by talking with insurance adjusters right away.
The problem is, insurance adjusters don't have your best interests in mind. Insurance companies are businesses, and they can delay or stall a settlement for any number of reasons. That's why it's critical to avoid talking with an insurance adjuster before you've consulted with an experienced attorney. Similarly, insurance companies seek to pay as little as possible in claims.
As a result, victims often settle for much less because they take a low offer from an adjuster.
If you hire Jamestown motorcycle accident lawyer Scott Humble, he will handle all discussions with insurance adjusters. Experienced attorneys know how to manage these negotiations and protect your rights.
Get Your Case Evaluated for FREE
If you've been in a motorcycle accident, don't hesitate to Humble Law Offices. Experienced Jamestown motorcycle accident lawyer Scott Humble is available for free case evaluations and will provide practical legal advice right now.
Call us now to learn more about your legal options and determine if you have a case.