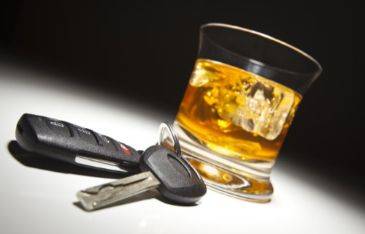 Did you or someone you love just receive a DWI charge and are curious about the differences between the types of DWI charges? Learn how to protect your rights and call for a free consultation.
1. First Time DWI Arrest
I had a call recently from a client asking what the repercussions are regarding a first-time DWI offense. Normally, a DWI has accompanying charges so that there's probable cause for the officer to pull you over. Usually it is a lack of using a turning signal, a registration, or inspection problem, and then you've got the actual DWI charge.
There are usually a couple of charges that the police make, and that is your BAC or blood alcohol content statutory amount, and then your common law DWI. Having said all that, there's a lot of charges floating around. Generally speaking, we get it down to one charge, and that's going to be some form of a DWI. The concern here is what the repercussions of either being found guilty of that charge or pleading to that charge are. What you're looking at is no jail time, a fine and some kind of revocation or suspension of your license.
2. Second DWI Arrest
I had a client contact me that had his second DWI charge, which is not good. It's mandatory that if you've been convicted of a DWI within the preceding 10 years, you're second charge is a felony. Felonies are extremely detrimental to people in New York State. You could be looking at state time and thousands of dollars in fines. You need to go and hire a very good DUI attorney to take care of that for you.
3. Marijuana DWI Charge
A marijuana driving while ability impaired or intoxicated is somewhat different than an alcohol related one in terms of defense. Certainly, you are charged the same. This, of course, is going to have to be common law because there's no breathalyzer yet for marijuana. It's still a DWI charge and prosecuted the same way, but defended differently. The reason for that is because there is residual marijuana in your system for up to 30 days, and they need to go and prove that you just smoked a joint. My defense, of course, is you smoked that joint a long time ago and you shouldn't be charged.
4. Underage DWI Charge
I represented an individual who was a high school senior in a small town, and was 17 years old, obviously under the age of 21. He was actually just moving his car from his girlfriend's house to his parents and didn't use a turning signal. There was a local festival going on and there were a lot of Deputy Sheriffs out that day. They saw that he didn't use the turning signal, so they pulled him over and they had probable cause to go through the field sobriety, give him the breathalyzer, the whole nine yards.
Now, a typical under-21 charge is anywhere from .01 to .07, and that normally is not prosecuted locally; that usually goes to the Department of Motor Vehicles. However, my client was charged with a .09, so they prosecuted him locally in the town court, and he was looking at some severe penalties. What I was able to do is, after several appearances, work with the prosecutor. We got the court to agree to go and reduce the BAC on papers and we ended up at Department of Motor Vehicle court.
Contact Our Jamestown Attorney Office
If you or someone you love was arrested for DWI and has questions about the types of DWI charges, contact us today to arrange a free confidential consultation with dedicated Jamestown DWI lawyer Scott F. Humble. Let his 30+ years of experience work for you.
Follow us on Facebook