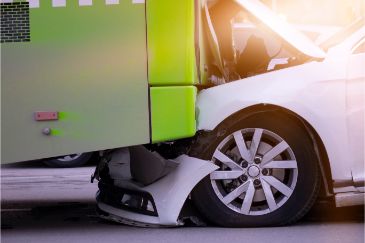 Bus accident injury cases can come in many forms. You may have been driving a vehicle that was hit by a bus, you might have gotten hurt getting off the bus, or faulty equipment caused you to get injured while on the bus. Whatever the case may be, you're probably wondering the same thing: "Do I need to hire a bus accident attorney?"
Do I Need to Hire a Bus Accident Attorney?
Many bus accident victims wonder, do I need an attorney? In short, the answer is yes. A professional advocate is an important ally for victims of bus accidents. Here's why: Many bus operators – from charter operators, to city bus companies – work closely with their insurance companies and legal departments. These operators are required to carry million-dollar policies and are backed by aggressive lawyers.
As such, their insurers and lawyers are primarily focused on the bottom line. It's not uncommon for victims of bus accidents to be offered significantly undervalued settlements that do not fully cover their recoveries or to be bullied into signing a low-ball settlement. That's how a qualified Jamestown bus accident lawyer can help.
Contact Humble Law Offices Today
When you a hire an experienced legal team, your lawyers work hard to defend your rights and build your case. Your legal team will collect evidence to prove liability. Additionally, a personal injury lawyer will fight with insurers to maximize your settlement and help you receive the compensation you deserve.
After an accident, you and your family should be focused on your recovery. It's our job to defend your rights, manage the legal process, and help you recover compensation for medical bills, lost wages, and other forms of compensation.
Jamestown bus accident lawyer Scott Humble is committed to helping victims recover compensation and return to their normal lives. If you've been involved in a bus accident, don't hesitate to call. Our legal team is available to discuss your case, provide legal advice, and help you start building a case.