Collecting Truck Accident Damages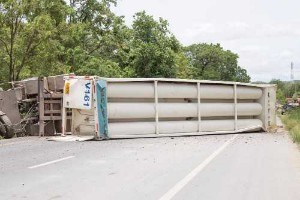 If you do not hire a personal injury lawyer for your commercial vehicle injury case, you will have a tough time collecting truck accident damages. Contact our office today for a free case review and receive the compensation you deserve. Let our experience work for you.
Collecting Truck Accident Damages | Compensatory
Compensatory damages include funds to help you pay for your recovery and respond to the long-term consequences of your injuries.  This type of compensation might help you pay for:
Medical bills
Lost wages
Long-term disability and disfigurement
Loss of normal life
Emotional distress
Pain and suffering
Recovering Truck Accident Damages | Punitive
Punitive damages are awarded on top of compensatory damages. This a form of financial punishment for the defendant. In truck accident cases, punitive damages may be issued if the driver acted with malice or gross negligence (for example failing to adhere to on-the-job safety requirements).
At Humble Law Offices, we're committed to helping protect the rights of victims. If you've been in a trucking accident, we want to help. Call us today for a free case evaluation with an experienced Jamestown truck accident lawyer. Our team will provide legal advice, help you determine what you should do, and help you begin to build a case.